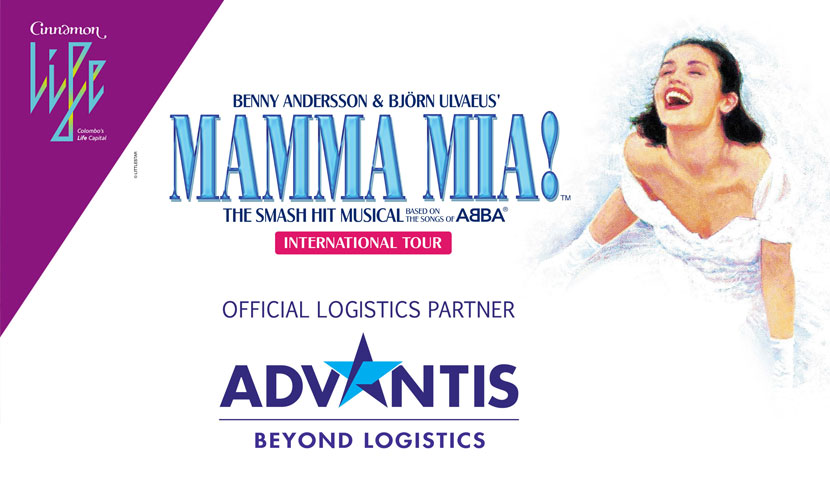 Hayleys Advantis, the Transportation and Logistics arm of Hayleys PLC, successfully completed the logistics management for Benny Anderson and Bjorn Ulvaes' West End production of MAMMA MIA! as the official logistics partner of the event presented by Cinnamon Life. 
Advantis Freight handled all local logistics for the equipment and material that was required to make the MAMMA MIA! stage play a success. This included the precise handling and management of seven 40' high cube containers which were brought down to Sri Lanka for the event that was held from 22nd to 30th December 2018 at the Nelum Pokuna Mahinda Rajapakse Theatre. 
Commenting on the partnership, the Managing Director of Hayleys Advantis Ltd., Mr. Ruwan Waidyaratne, said, "We are excited to have supported Cinnamon Life in bringing the world renowned theatre production Mamma Mia to Colombo. As the event's official local logistics partner we are happy to have played a role in Cinnamon Life's drive to establish Sri Lanka as a preferred destination in the region for events of this nature."
With six decades of experience in the field of logistics, Advantis offers end-to-end logistics solutions, solving supply chain complexities across diverse industry verticals. The company has taken its locally developed experience and expertise to over 10 countries across the Asian region serving clients from SMEs to large multinationals. This was the company's first venture into managing event logistics for a theatre production of this magnitude. 
"With crucial cargo such as sets, props, costumes etc. arriving just days before the first live performance, managing critical timelines in logistics played a crucial role in the overall success of the event. As the premier logistics service provider in Sri Lanka, our aim was to ensure that all logistics requirements of Mamma Mia were met to perfection," said Mr. Waidyaratne.

Over 60 million people in 440 cities around the world have fallen in love with the characters, story and songs from MAMMA MIA!. Performed for the very first time in South Asia in collaboration with Little Star Services (Europe), the cast of this musical comprised internationally acclaimed performers who brought out the best of Broadway and West End productions to Colombo. Little Star Services was formed in 1996 by Judy Craymer, Benny Anderson, Björn Ulvaeus and Richard East to produce the stage musical 'Mamma Mia!'. Based in London, Little Star is now a successful global producer of theatre, film, television, publishing and music.Cinnamon Life is the first premier real estate development of its kind in Sri Lanka. A "city within a city", this iconic project will redefine Colombo's skyline and deliver a vibrant lifestyle experience at every touch point. Set to be the heartbeat of the city whilst making its mark as Colombo's lifestyle capital, the property will feature the finest Cinnamon hotels, state-of-the-art shopping arcades, theatres, office spaces, multi-purpose entertainment venues, restaurants and apartments – that will all offer the epitome of exclusivity and luxury. A place where you can enjoy everything from phenomenal fine dining and gastronomical journeys, to concerts featuring global music stars to immersive world class retail experiences, Cinnamon Life will be the city's ultimate lifestyle and entertainment hub.
To find out more about upcoming events, visit www.cinnamonboxoffice.com.
Cinnamon Life presents Benny Anderson and Bjorn Ulvaes' West End production of Mamma Mia – In Association with HSBC Premier, Destination partner – Sri Lanka Tourism Promotion Bureau, powered by Sri Lankan Airlines. Banking Partner – HSBC, Conceptualized by Cinnamon Hotels & Resorts, Radio partner – YES101 & Legends96.6, Logistics Partner – Hayleys Advantis, Transport Partner – Jaguar Land Rover, Telecommunications partner – Mobitel, Delivery partner – Grasshoppers, Booking Engine partner – Book My Show, Outdoor Media partner – Emerging Media, Cinema Partner – Scope Cinema, Print Media and Web Partners – Sunday Times, Daily Mirror, Daily FT, Life online, Daily Mirror.lk, Hi Magazine and HI TV, and Sagara Lakmal De Mel – Photography partner.