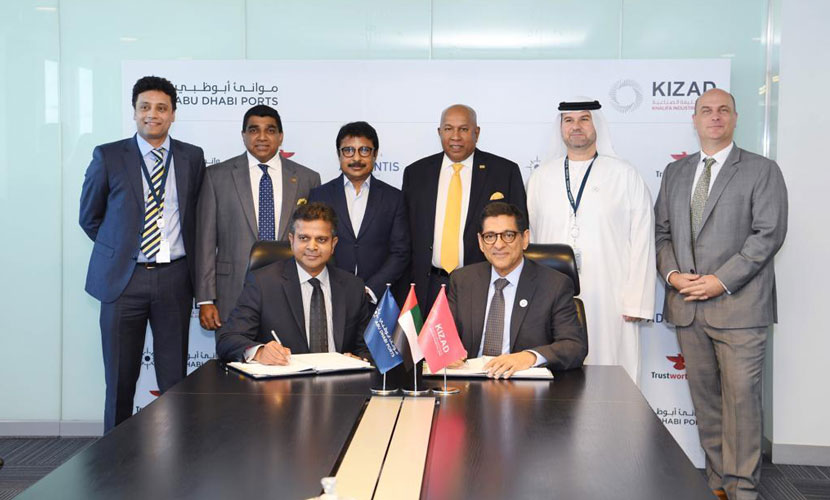 Hayleys Advantis Limited (Advantis), the transportation and logistics arm of Hayleys PLC, announced that it has entered into a landmark deal with Dubai-based Trustworthy.ae Group.
Advantis is to operate and manage a state of the art Inland Container Depot (ICD) and third-party Container Freight Station (CFS) being developed by Trustworthy.ae Group in the Khalifa Industrial Zone Abu Dhabi (KIZAD). Advantis had to compete with 7 local and international bidders for this project, which marks its first foray into the Middle Eastern market.
"It gives me great pride to see Advantis step into the Middle Eastern market through this landmark partnership with Trustworthy.ae Group," said Mr. Mohan Pandithage, Chairman and Chief Executive, Hayleys PLC. "Congratulating the extended Advantis team on this momentous occasion, I look forward to seeing them draw on their over 6 decades of experience in Sri Lanka's logistics sector as they work towards building a world-class operation in KIZAD."
KIZAD, a subsidiary of Abu Dhabi Ports, is one of the largest industrial zones in the Middle East. Its container volumes are expected to grow exponentially from 1.5 million TEUs to 8.5 million TEUs over the next five years. In line with this, the Trustworthy.ae Group is investing nearly USD 100 million to develop an ICD, CFS and other port-related services in KIZAD over this period.
Commenting on this partnership, the Executive Director of Trustworthy.ae Group, Mr. Jalal Essudeen said, "Going Beyond commitment to deliver with Passion implies many things. Simply put, the Hayleys culture demonstrates their personality. The proven reliability of over a hundred years and professionalism were the key factors in entering this strategic partnership." Advantis, who brings in two decades of experience in managing ICDs, has been tasked with operating and managing the container depot and freight station to be built on a 1.4 million sqft. plot. With construction commencing in January 2019, the facilities are set to become operational by June 2019.
"We are delighted to partner with Trustworthy.ae Group and enter the Middle Eastern market, a region we have been keen on expanding our services to," said Mr. Ruwan Waidyaratne, Managing Director, Hayleys Advantis Limited. "Over the years we have built our expertise in the field of ICD and CFS management and currently have a pool of experts certified by the Institute of International Container Lessors. This long term engagement at KIZAD gives us a great opportunity to showcase our team's home-grown expertise to the world."
Commenting on the selection of Advantis for the management of this facility, Mr. Kolitha Piyadigamage, who consulted trustworthy Group on the project said "Advantis was awarded the opportunity in recognition of its unparalleled expertise and corporate values demonstrated over the years. The diverse product offerings of Advantis backed by Hayleys PLC which was adjudged the Best Corporate Citizen of Sri Lanka on five occasions were key highlights which impressed the Trustworthy Group."
Hayleys Advantis is Sri Lanka's leading logistics solutions provider, representing and working with some of the world's most noted names in shipping and freight. The company has been providing services for container storage, repair and refurbishment for over two decades and currently operates two Inland Container Depot (ICD) facilities. Strategically expanding its reach beyond Sri Lanka, it currently has operations in 10 countries in the South Asian region.
Hayleys Advantis is the transportation and logistics arm of blue chip multinational conglomerate Hayleys PLC. With six decades of experience and operations spread across the Asian region Advantis offers end-to-end solutions covering air, land and sea. It is committed towards being an innovator in the industry, setting the pace and shaping the logistics category.