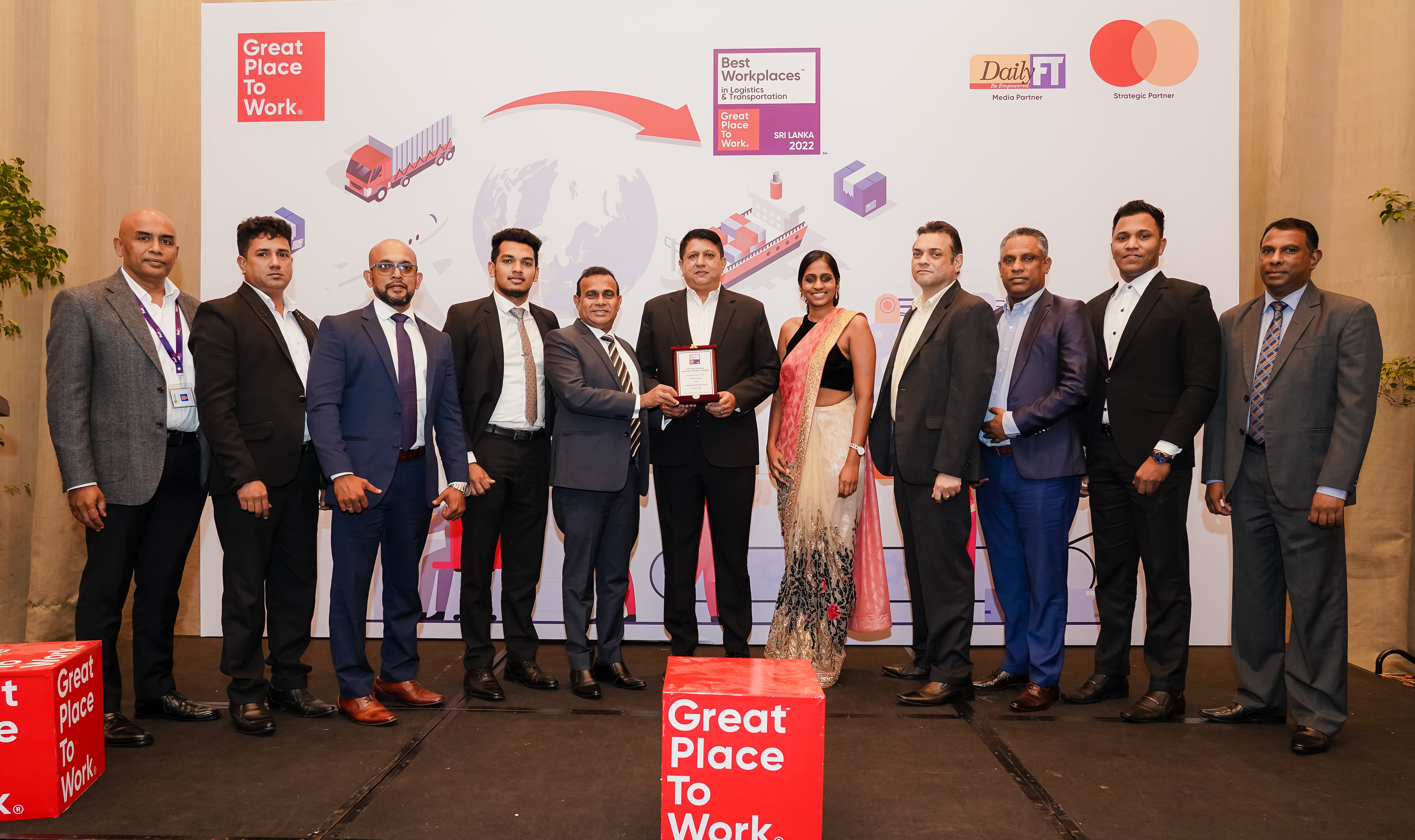 Advantis Express Pvt Ltd, the licensee of Federal Express Corporation in both Sri Lanka and the Maldives, has been certified as one of the 'Best Workplaces™ in the Logistics and Transportation industry in Sri Lanka' for 2022, by the Great Place to Work® Institute. This recognition is a testament to its unwavering focus in creating a workplace culture that brings out the best in every employee.
As a Company committed to developing its people, Advantis Express takes exerted efforts to ensure continuous employee development through regular training, workshops, and other internal initiatives that propel an employee's professional progress. The Company strives to create an environment that allows its associates to reach their fullest potential by mentoring each individual to unleash their hidden talents and capabilities.
The Company is guided by FedEx's "People-Service-Profit" principle, which states that when an organisation looks after its people, in return, they provide an outstanding service which increases employee productivity and creates a healthy work environment. The Organisation's culture plays a key role in allowing employees to thrive and deliver exceptional customer experiences. A high trust culture breeds high performance across all levels in the Organisation as equal opportunity and impartiality encourage people to go beyond.
Advantis Express continuously focuses on delivering the Purple Promise, which creates outstanding experiences for its customers. Most importantly, the Company constantly recognises and rewards employees for their behaviour and contributions to the organisation. The Management ensures that employees feel valued, inclusive and a part of the Advantis Express family.
"At Advantis Express, we strive to promote an inclusive culture driven by a strong purpose and values. As employees are the driving force behind any successful business, we ensure to continue working towards the alignment of aspirations of the employees with the goals of the Organisation" said Chamila Bandara, Member of the Group Management Committee of the Advantis Group.
Advantis Express, the licensee of Federal Express Corporation, is the authorised service provider for FedEx operations in both Sri Lanka and the Maldives. It has been in operation for over 30 years in Sri Lanka and is a fully owned subsidiary of the Advantis Group, the transportation,  logistics and construction arm of Hayleys PLC.
FedEx Express is an American cargo airline based in Memphis, Tennessee, United States of America. As of 2020, it is one of the world's largest airlines in terms of fleet size and freight tons flown. It is the leading subsidiary of FedEx Corporation, delivering freight and packages to more than 375 destinations in over 220 countries across six continents each day. FedEx Express is also the world's largest express transportation company.